Sales Management
Generate quotations online from proposal to eSign
Once your opportunity is qualified, Oxone provide seamless process from apply quotation templates, send out and sign to close deals and get paid.
Steps:
1.Click on one of the quotation items in Sales app> Quotations, go to the quotation detail page.
2.Click on "Edit" and fill out quotation info as you want.
3.In the field called "Quotation Template", select on one of the templates.
4.After "Save" quotation, then go to see what it looks like by clicking on "Preview".
5.In the web page quotation, click on "Edit" button on the top right corner to make changes.
6.Go back to Quotation detail page in Sales app, after "Save" template and click on "Edit Quote" button.
7.You can send the quotation out and by click on the link of the quote, customer is able to sign and accept order so that in Oxone sales system, the status of quotation will change to "Sales order".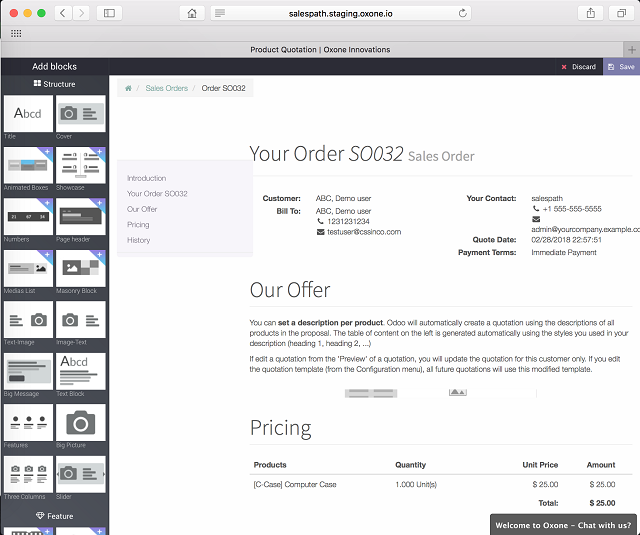 Pricelist and discounts
Design and adjust your pricing strategy to maximize revenue. Use pricelist rules to compute the right price based on custmer conditions. Convince customers to buy more with discounts and coupons.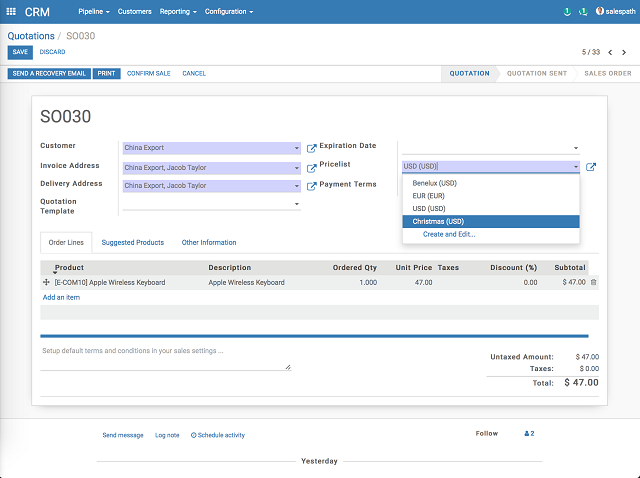 Try it Out?
Would like to try this feature in Oxone Sandbox?