SEO and Analytics
Keywords and Analytics
After you present your great products and services online, the next big step is to promote them in front of your target audience.
Optimize SEO
Our Search Engine Optimization tool integrates with Google to analyze the relevancy of your content in real time.
Steps:
1.On the top setting bar, click on "Promote", and select "Optimize SEO" item
2.Customize the keywords and description with Oxone providing the recommendations
3.If there is no top setting bar shown on the page, please click on "Sign in", and sign in as a internal account and try again.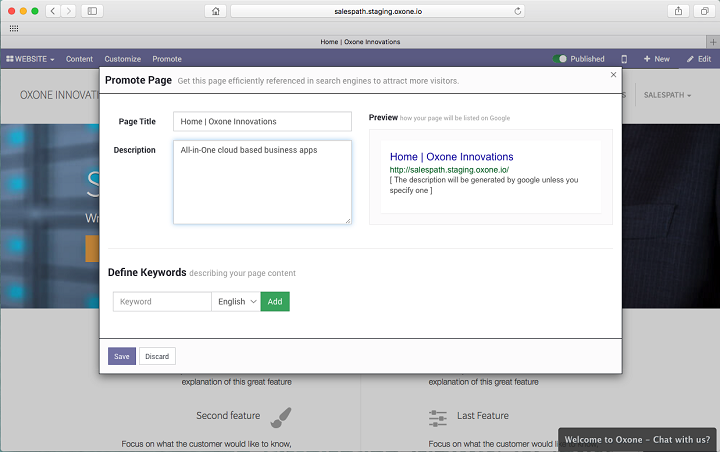 Track page and gain insight of your marketing strategy
Share the page you want to track by creating a short link that includes analytics trackers. Fill in the campaign, medium and source tags. Then insert your link into your marketing campaign and channels. When users click your custom link, information will be captured and displayed on your Analytics dashboard. Therefore, you can identify which links are the most effective in attracting visitors to your website. Compare the performance of several sources and improve your marketing strategy.
Steps:
1.On the top bar, click on "Promote" and select "Track this page"
2.work on the link tracker strategy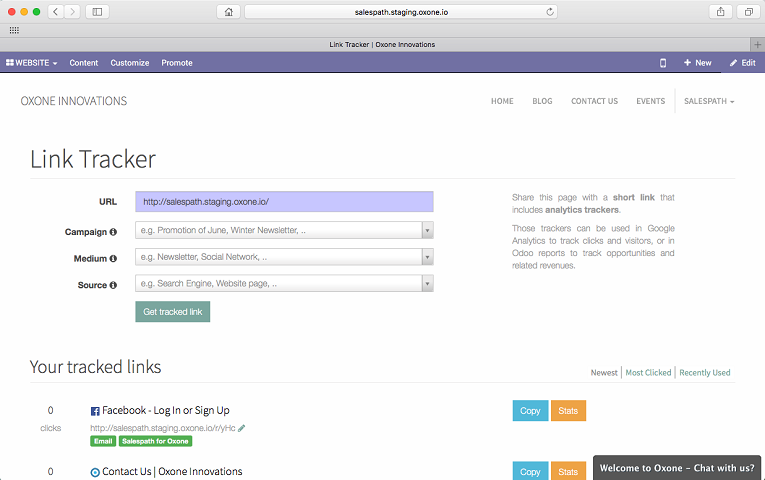 Try it Out?
Would like to try this feature in Oxone Sandbox?