Website Builder
Website always the must to have digital presence for every business.
Drag and Drop blocks.
With website app, you are able to easily build your official website by drag and drop abundant feature blocks, including call-to-actions, job posts and eCommerce.
Steps:
1.In Website app, click on "Go to Website" and go to front site.
2.Click on "Edit" on the top-right corner, and robust building blocks shown up on the left side of each webpage.
3.Drag and drop to the location where you like, and do customization as you want.
4.Click on "Save" on the top-right corner after you done your test editing.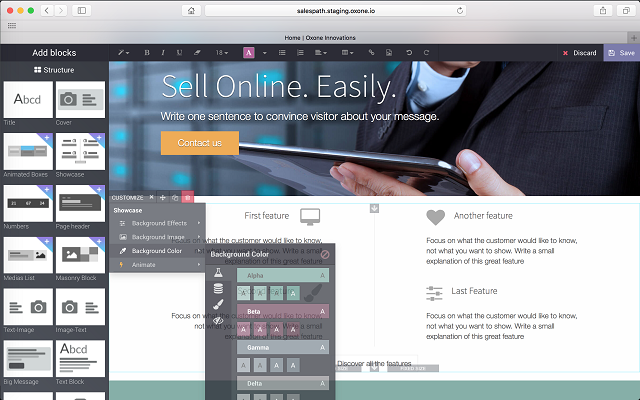 What you type is what you see.
No more coding, simply replace text and images and change styles to fit your brand.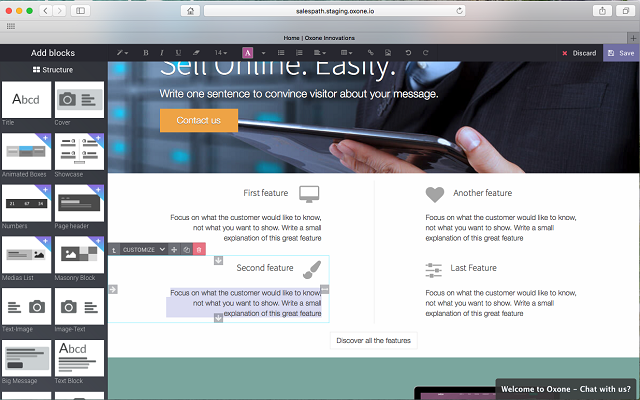 Blog posts and social media call-to-action.
Follow the inbound marketing methodology, blog posting and social sharing integration can seamlessly to attract more and more visitors.
Steps:
1.Click on "+ New" on the top-right corner, and pick on "New Blog Post".
2.The you can type content into the text editor, Or drag building blocks into the blog page as well.
3.Click on the toggle that shows "Unpublished" to switch to "Published" to make this blog live.
4.You can also click on the dropdown menu on the top-left corner of the side which is showing "WEBSITE" for now, and pick on "Website" app to go back to dashboard page.
5.And click on "Blog" in the menu bar to do deeper customization work.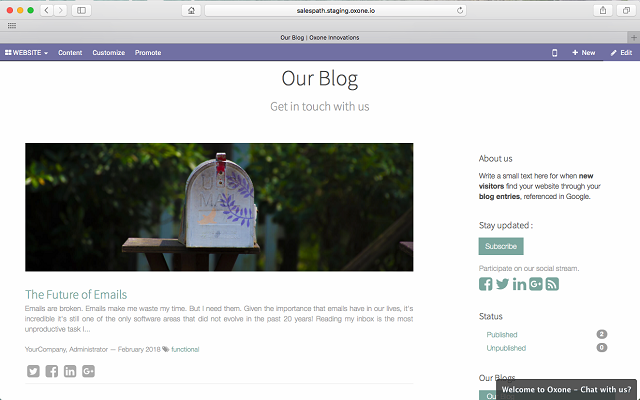 Try it Out?
Would like to try this feature in Oxone Sandbox?